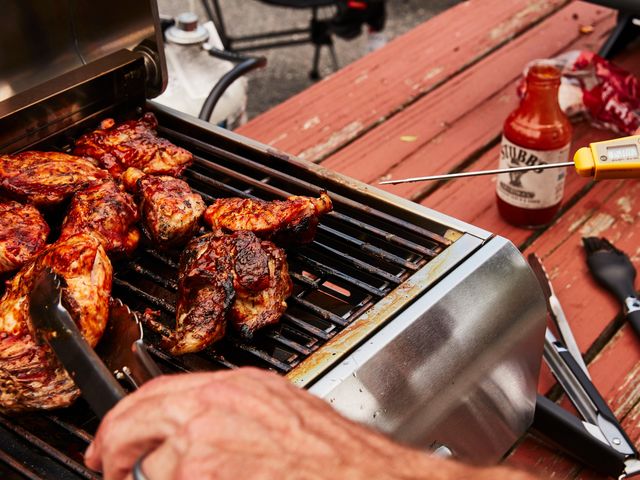 Adaptar el paladar occidental a la comida tailandesa lleva unos días, pasado ese tiempo, la mejor forma de empezar es visitar una parrillada Tailandesa con amigos.
We had one of the most beautiful experiences, carrying out our project "Working on Travel". We met Bird and his family at Ban Thai Guesthouse. The last night of our stay we received an invitation from Bird to eat a "Thai BBQ", it was impossible to say no to such a good proposal and such a novel experience, we looked at each other and said: I do!
Get ready in 10 minutes, we're leaving," said Bird. We looked at each other and said: where to? We looked at each other and said: Where are we going? So double surprise, Thai Barbecue and somewhere else. We got into his truck with his wife and son. We didn't really know where they would take us until we thought we would go to someone's house and eat typical dishes.
In a few minutes we arrived at our destination: a sign announced "Thai BBQ", a big open-air restaurant where only Thais go. The space is very familiar, a very large roofed structure where more than 300 people entered, with indoor tables, outdoor tables and low tables with cushions as chairs.
At the Thai Barbecue you cook yourself and at your own table. In the center of the enclosure there are two long, very large tables. In one of them there are different trays with raw food: small pieces of chicken, pork and fish, rice noodles, vegetables, sausages, bacon, ground chicken, tofu, sliced sausages with the faces of the Angry Birds and a great variety of vegetables and seafood.in another table of the same dimensions were the salads and cooked dishes, sauces (spicy), rice and fruits.
Each table has a hole in the center where they put a tin bucket with lit coals and on it a conical tray where they roast the raw food and another space with a gutter (ditch) that is filled with water to boil. There is also a small table for drinks on the side.
The laughter began when we started boiling things that were roasting and grilling things that were boiling, the chicken was burning because we didn't quite master the sticks to get the food out of the barbecue. Bird's wife kindly went in search of some forks for the only two foreigners.
Instructions for eating at a Thai Barbeque:
After getting to the table, the guests go to the big tables, take plates and cutlery and start filling them with the products they want to eat, as many as they want.
Once you have chosen everything you want and have it on the table you can start cooking on the metal tray. The products that are roasted on top and those that are boiled in the water.
While they are cooking you can alternate between salads and rotate the meat so that it doesn't burn. The same should be added to the water in the gutters to replace the evaporated.
Eat carefully, remember that there are things too spicy for a western palate.
Don't worry about the mosquitoes, the waiters will bring repellent to your table along with the salt and other condiments.
Enjoy Thai food and the pleasant company of friends.
The language barrier is not a limitation to communication
Besides eating abundantly and exquisitely we had a very pleasant dinner where there was everything, laughter, stories and above all a lot of talk. Having dinner and sharing such a pleasant moment with a Thai family filled us with joy and when talking to them we realized that beyond latitudes and cultural differences the topics of conversation can be the same. We talked about savings, education, security, taxes, the same things that are talked about anywhere in the world.
Bird told us more about their culture, how important the figure of the king is to them, he told us that he was like a father to everyone. When asked how they make themselves happy and content all day with that smile that characterizes the Thai people, he told us that they have what they need to be happy, especially family support.
Even with his entrepreneurial spirit he told us that he would like to serve Thai Barbecue in his guesthouse, which we strongly encourage, it would surely be a success.
please take a moment to visit their page to know more about best mookata singapore.